Printable Test for Anxiety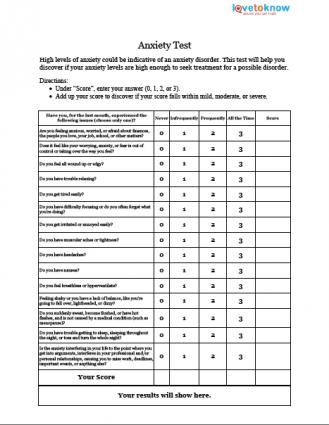 Everyone experiences anxiety once in a while. How does a person know if anxiety has become a big problem? Taking an informal anxiety test can help reveal if anxiety has become a real problem that merits help from a professional.
Test Your Anxiety Levels
Click on the printable anxiety test above. The test is designed to help you determine if your levels of anxiety are high enough to become problematic. High levels of anxiety can interfere with many life areas, including social situations, being able to function with daily tasks, at work or at school.
If you choose to fill in your scores on your computer before printing the test, your total score will automatically load at the bottom of the graph. Use this score to determine your anxiety levels by reviewing the score key at the conclusion of the test.
If you need help downloading this printable, check out these tips.
Note that this informal test is not a substitute for guidance from a licensed mental health professional or physician.
Seek Professional Help
If your anxiety levels are high, or if you feel like your anxiety is interfering with your life, it is important to seek help immediately from a licensed mental health professional. Your provider will help you come up with an effective treatment plan to alleviate some of your anxiety.